Minecraft shaders are graphic enhancers that require OpenGL or DirectX 11 compatible video cards to render. When installing and activating a shader pack, players can expect significant upgrades ranging from realistic lighting, and water effects, to sun rays and 3D textures. These shaderpacks work thanks to Optifine or Iris, which are optimization and appearance tools available for Minecraft. 
Created by Capttatsu back in 2015, BSL Shaders 1.19 is one of the most popular shaders available for Minecraft with more than 17,5 million downloads in Curse Forge alone. What makes BSL Shaders 1.19.1 so popular are the highly-customizable features and optimization options that add a realistic aesthetic to the game. Are you interested in trying BSL Shaders but you're unsure of where to start? Here's what you need to know! In case you've already seen the screenshots for this amazing Minecraft shader for 1.18.2, Capttatsu has taken a realistic approach to BSL shaders without compromising the game's iconic visuals. What makes BSL Shaders 1.19 a favorite of countless players and content creators is the distinct, warm color that overhauls your Minecraft world with brightness and realistic lighting without blinding the player. Let's look at a brief breakdown of what it has to offer:
The realistic visual effects in BSL Shaders must be one of the strongest draw points in this Minecraft shader pack. The warm lighting, water reflections, and particle effects help create a realistic environment that still remains somewhat faithful to the vanilla experience. What's great about BSL Shaders is how it manages to render water and lava as actual liquids without making them look out of place in the blocky environment!
The core visual enhancements provided by BSL Shaders include: 
Lighting tweaks
Real-time shadow rendering
Full-color customization
Per-biome weather color
Ambient occlusion
Dual rainbow lens flare 
Exclusive Nether and End shaders
Built-in antialiasing (FXAA 3.11 and TAA)
Sky customization
All of these details combine into a fantastic visual experience for any Minecraft player to enjoy. But is BSL Shaders a good option for low-end PC players as well? While it's necessary to have a compatible video card to properly render shaders in Minecraft, another drawing point for BSL Shaders is it's highly customizable settings. Thanks to the available profiles (Low, Medium, High, and Ultra), players with low-end computers can tweak to their leisure to improve their game's performance. On the other hand, if you've invested in a high-end computer, choose the Ultra profile and immerse yourself in a breathtaking experience. On top of its settings, BSL Shaders is compatible with countless resource packs available for Minecraft 1.18.2 and below, meaning that you may not need to worry about extra troubleshooting if you do proper research!
Players can enter their game's settings via Optifine and enable some of the following features:
Auto exposure
Motion blur
Depth of field
Black outline
Rough reflections
Bumpy edge
Lightmap banding
Round sun and moon
World curvature
Dirty lens
BSL Shaders is available for Minecraft 1.18.2 and older versions down to 1.7.8. 
While BSL Shaders is available in English by default, players can also download language patches for Simplified Chinese, Traditional Chinese, French, Japanese, Italian, and Russian. As of April 2022, Capttatsu has already released an update that makes BSL Shaders compatible with Minecraft 1.19's screenshots. This update is also the first time the shader pack works with Iris, so there's no excuse not to try out this popular shader pack for yourself!
BSL Shader Screenshots
Click on the image for a better view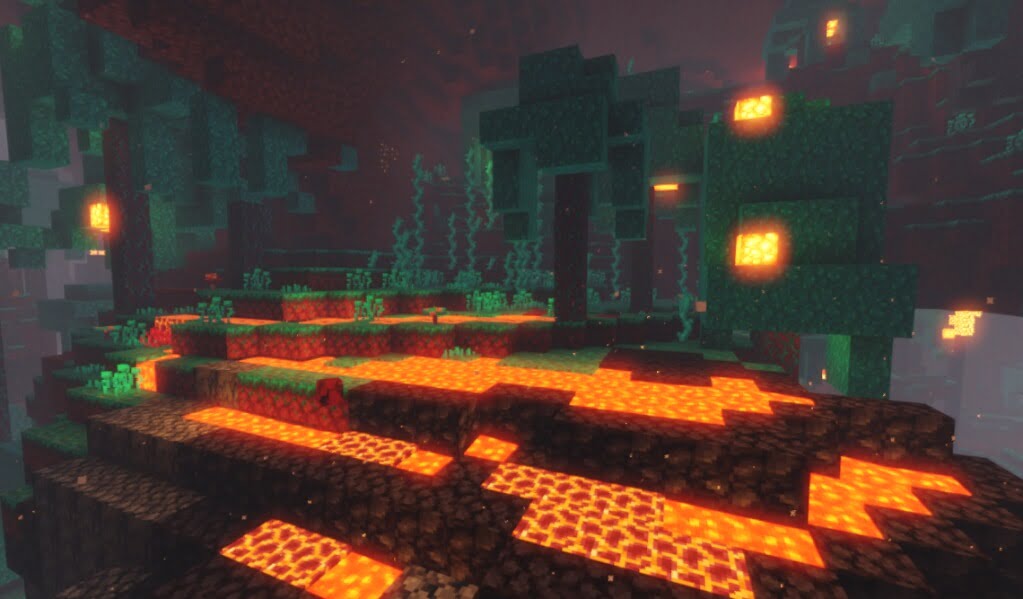 Compatibility
Compatible with all of these Minecraft versions: 1.19.2 – 1.18.2 – 1.17.1 – 1.16.5 – 1.15.2 – 1.14.4 – 1.13.2 – 1.12.2 – 1.10.2 – 1.9.4 – 1.8.9 – 1.7.10 – 1.6.4 – 1.5.2
To get the best while using Complementary shaders, you must understand some issues that concern its compatibility. The first thing you have to know is that this shader pack has been developed to run very fast regardless of your driver and Graphics Processing Unit. In other words, it will work smoothly on them without any issue or limitation. However, some shader packs are not compatible with various mods. You may be forced to choose between downloading your favourite shader packs or the mods in such a case.
Complementary Shaders 1.19 are pretty different given that it works very well with different mods. In case you want more BSL shaders, as said above, using complementary shaders can help out. It can help to fix the problems that most shaders have failed to address in the past for players. Most importantly, one thing you need to understand about complimentary is that its installation process is quite different from other shaders introduced in the game before now. 
How to install Complementary Shaders
This mod is available for Minecraft 1.19 and previous versions. To install Shaders, don't forget to install "OptiFine".
Before opening any existing worlds from a version prior to 1.19 please make a backup and/or run them in a different folder from your main worlds.
Follow the steps below to install Complementary Shader Pack.
Complementary Shaders 1.19 should be downloaded. – Download right below
The mod you have downloaded should be saved in a .zip file. Have it copied into the folder named ".minecraft/shaderpacks".
The game should be opened. Headover to "Options/Shaders" and have the "Complementary" shader selected.
Download Links:
 [1.19.x – 1.7.x] Download Sildur's Vibrant shaders v1.29 Extreme-Volumetric lighting